OSA Multipurpose Nonlethal Weapon System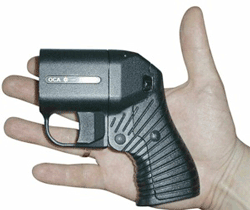 OSA (Russian for "wasp") is a family of Russian nonlethal pistols that can also be used as a flare launcher or flashbang gun.
Powerful, reliable, compact and safe, the OSA multipurpose weapon system is the new, nonlethal weapon of the 21st century, well suited to the needs of law enforcement, security, and self defense.
OSA Signal Pistal with flashlight flare is ideal for use as a distress signal on boats.
OSA Nonlethal Pistol is a compact, nonlethal handgun which is capable of reliably stopping the assailant with minimal risk of fatal damage.
The OSA multipurpose weapon system is available throughout Europe exclusively through Wasp GmbH.